Description
TOPDON Phoenix Lite2 is an OE level car diagnostic tool, it can support ONLINE/ECU CODING For VEHICLE MODIFICATION, 200 models OE level diagnostics, 28+ RESET SERVICE, V.A.G guidance function, BI-DIRECTIONAL CONTROL, AUTOAUTH FOR FCA GATEWAY ACCESS.
Why choose Phoenix Lite 2?
1. Access online/ECU coding, match and code the newly replaced ECU, unlock hidden functions such as automatic folding windows, and support for Volkswagen, Porsche, Mercedes-Benz, and BMW.
2. With V.A.G guidance function, Phoenix Lite 2 will guide you step by step, and perform matching, calibration, and basic settings while diagnosing, compatible with Volkswagen, Skoda, Seat, and other models.
3. Two-way control can send commands to the ECU to control the actuators to perform corresponding actions (such as moving windows, switching lights, air conditioners, etc.) to help accurately identify problems.
4. 28+ maintenance services, such as oil reset, EPB reset, PDF, gear learning, suspension reset, throttle adaptation, Windows calibration, etc., is an excellent integrated diagnostic scanner for professional auto maintenance.
5. OE-level system diagnosis allows customers to deeply understand the vehicle systems of more than 200 models including engine, transmission, airbag, ABS, ESP, and TPMS, compatible with GM, Ford, Chrysler, BNEZ, BMW, etc.
6. Phoenix Lite 2 provides FCA Gateway access to perform enhanced diagnostics on FCA vehicles (Chrysler, Dodge, Jeep, etc.).
7. AutoVIN function allows Phoenix Lite 2 to collect important vehicle information, including vehicle make, model, and year of manufacture.
8. Customers can see more details in the interface, the 8-inch high-resolution LCD screen (1280*800 pixels) makes the screen clearly visible.
9. Phoenix Lite 2 has a larger battery capacity, saving you from repeatedly charging Lite 2 throughout the day. The 12600mAh battery provides up to 24 hours of battery life with the screen on.
10. 2 years of free software updates, allowing customers to get the most functions and the best user experience with one click, maximizing the return on investment.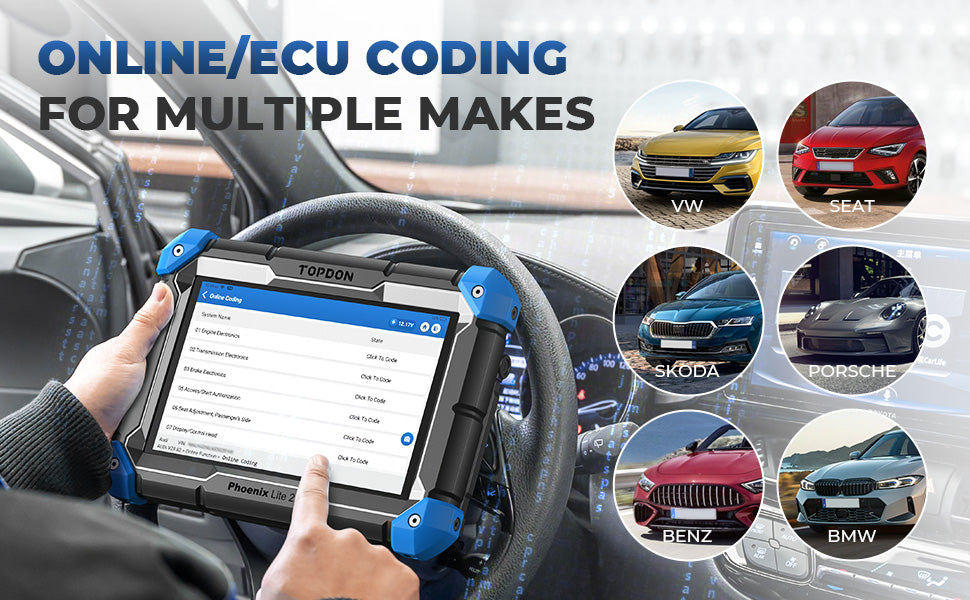 Online/ECU coding for personalization
Online/ECU coding provides access to matching and hidden functions, supporting Volkswagen, Seat, Skoda, Porsche, Mercedes-Benz, BMW, and more. This dedicated scanning tool can help users match and code the newly replaced ECU and take full advantage of hidden features such as automatic folding mirrors, closing windows with keys, locking the doors, and fuel level display.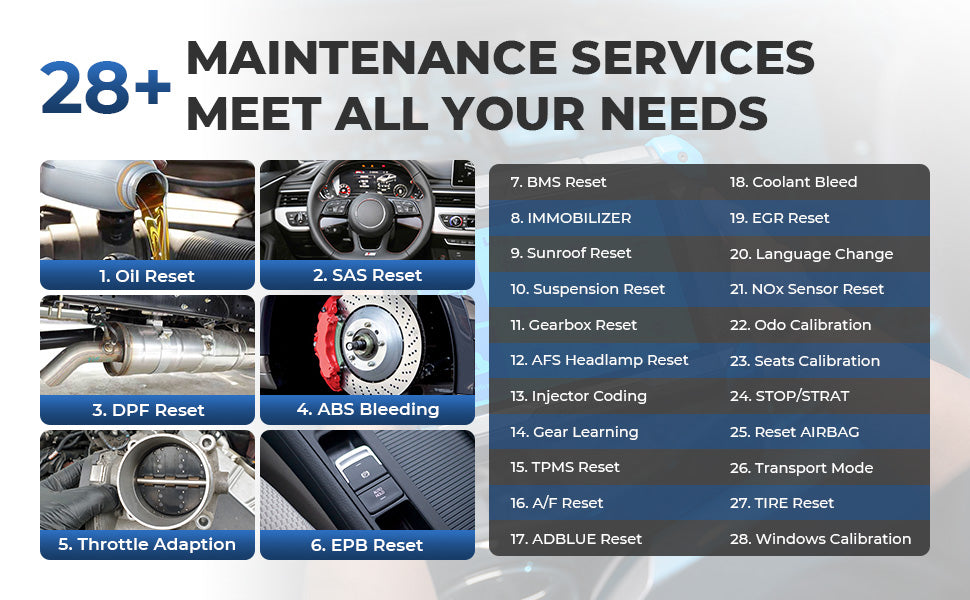 All-in-one diagnostic scanning tool, 28+ maintenance service functions to meet your needs
1. Oil reset (53 brands): Reset the engine oil life tracking system after changing the oil.
2. SAS reset (44 brands): resets the steering angle to zero, keeping the car going straight.
3. EPB reset (41 brands): Helps replace and reset brake pads.
4. BMS Reset (31 brands): Clear the low battery fault code and re-match.
5. DPF (39 brands): Regeneration of diesel particulate filter systems.
6. ABS Bleeding (34 brands): Helps release air trapped in the vehicle's braking system.
7. IMMOBILIZER: Disable any missing keys and add new ones.
8. Sunroof reset: Initialize the sunroof control module data.
9. Suspension Reset (11 brands): Adjust the body height sensor for horizontal calibration.
10. Gearbox reset: help complete gearbox self-learning and improve gearshift quality. 11. AFS Headlamp Reset: Initializes the adaptive headlamp system.
12. Injector code: Write the new injector code into the car system to correct the cylinder injection quantity.
13. Gear Learning: Monitor certain crankshaft position sensor signals.
14. TPMS Reset: Reset the tire pressure monitoring system.
15. Throttle Adaption (37 brands): Initializes the throttle actuator to the default state.
16. A/F Reset (5 brands): Set or lean air-fuel ratio parameters.
17. ADBLUE Reset (8 brands): reset the urea after replacing or filling up the diesel exhaust treatment fluid.
18. Coolant Bleed (5 brands): start the electronic water pump.
19. EGR Reset (7 brands): Understand the exhaust gas recirculation valve after cleaning.
20. Language change (7 brands): Change the language of the vehicle system.
21. NOx Sensor Reset (8 brands): Reset the catalytic converter learning value stored in the ECU.
23. Seat Calibration (18 Brands): Calibrate memory for replacing or repairing seats.
24. STOP/STRAT (5 brands): Set the automatic start-stop function in the ECU.
25. Reset AIRBAG: Reset the airbag data and clear the airbag collision fault indicator.
26. Shipping Mode (13 Brands): Deactivate Shipping Mode.
27. TIRE Reset (5 brands): Set the size parameters for modifying or replacing tires.
28. Windows Calibration (15 brands): perform door and window matching and restore the initial memory of the ECU.
***IMMO (Key Programming) function supports a limited number of vehicles. Please ask the car manufacturer for the key PIN code or consult us in advance for compatibility.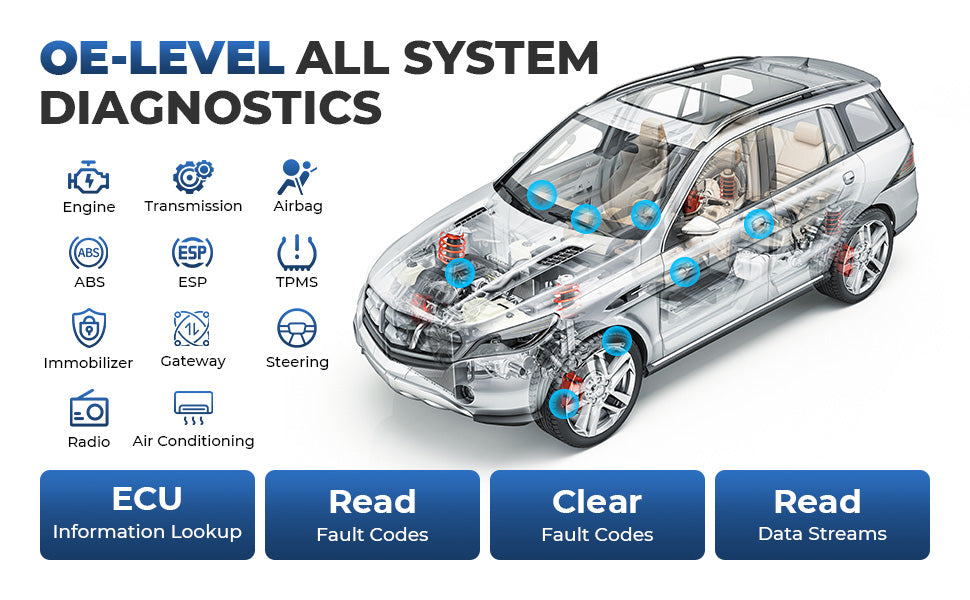 OE-level full system diagnostics for over 200 models
Phoenix Lite 2 allows customers to dig deep into all systems including engine, transmission, airbags, ABS, ESP, and TPMS reset. It also supports ECU to find and clear fault codes, and read data streams, and is compatible with GM, Ford, Volkswagen, Toyota, Mercedes-Benz, BMW, etc. until the 2022 model year.