Description
Dimsport Genius V2 – ( SLAVE ) CARS,BIKES & LCV – WITH 12 MONTHS SUBSCRIPTION
WHAT'S INCLUDED IN YOUR DIMSPORT PACKAGE
Dimsport Genius, the latest OBD tuning kit on the market.
Brand new including 12 months subscription for new developments and additional vehicles
Universal cables for boot-loader and bench programming ECUs out of the vehicle
Full training at our HQ in Sheffield If you have experience you are not required to attend
Support via , dedicated Facebook support group, phone, Skype,  email and PC to PC remote assistance if needed
Full setup & operating instructions.
Free advertising on our website Advice and help with building your website
THE EVOLUTION OF THE OBDII PROGRAMMING!
Dimsport Technology is proud to present the new GENIUS V2, an evolution of the previously released Genius. The first Touch&Map tool for serial reading and programming operations of Engine Control Units (ECUs) has been improved in it's technical features & performances.
A new more advanced colour touch-screen panel has been integrated and a more powerful microprocessor that allows for faster operations. NEW GENIUS allows intuitive use thanks to it's touch-screen panel and a really user-friendly operating system.
Reading and programming operations are performed without any connections to a PC to offer the greatest independence and to avoid slowness or blocking tied to an eventual presence of viruses or, in general, effect of the multitasking nature of the computer.
NEW GENIUS represents the perfect tool for top professionals as well as new tuners. A direct interface with the vehicle's engine via E-OBDII or diagnostic socket. CAN-BUS, K/L-line (KWP), J1850 communication protocols are supported to cover all ranges of Cars, light commercial vehicles and trucks.
A removable 512 Mbyte SD Card (SECURE DIGITAL), upgradeable up to 4 Gbyte, permits the storage of an almost unlimited number of original tuned files. NEW GENIUS is a true asset for every tuner thanks to the impossibility to perform wrong operations. Detailed instructions appear on the screen and drive the tuner until the car is programmed. Thanks to it's new and advanced technology, it has never been so simple to achieve the modified result which every tuner and every customer wishes to obtain.
NEW GENIUS THEREFORE IS…
Easy to use thanks to it's touch screen panel and to a user friendly interface. Very safe being a stand alone device, working without connection to a personal computer or laptop during the reading and programming operations. Extremely stable during the delicate procedures of reading and programming.
Trasdata Bench Remapping Tool – With EGPT Pinout module
The New Trasdata is a unique tool supporting almost all microprocessors used in the automotive field, for reading and programming operations in JTAG, BDM and BOOT mode.
Developed as the evolution of the hugely successful Trasdata predecessor which was known for it's ease of use and innovation (e.g. Automatic identification of the plugin required, backup copies of the whole ECU firmware etc…) the New Trasdata opens new doors to JTAG communication, which is widely used Asian vehicles.
A wide range of JTAG developments expands the possibilities of the programmable controllers and of course BDM and BOOT applications are also included. The list of microprocessors now includes: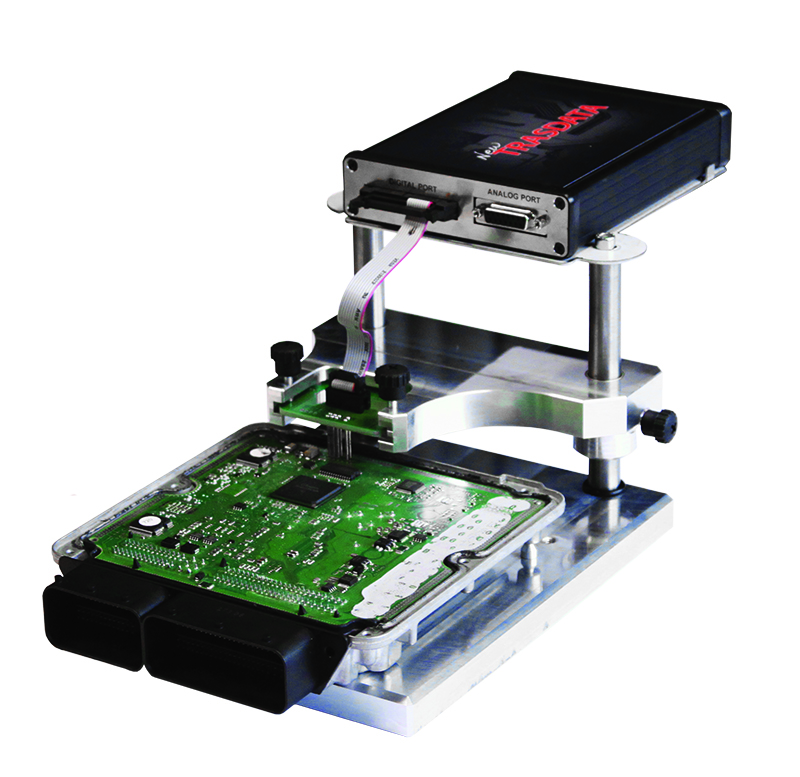 Motorola MPC5xx (BDM mode)
Motorola MC68xxx (BDM mode)
Motorola MPC55xx (JTAG mode)
Renesas SH705x (AUD/BOOT mode)
Mitsubishi MH72xx/MH82xx (BOOT mode)
Infineon Tricore (BOOT mode)
ST Microelectronics ST10xxx (BOOT mode)
Motorola HC12 (BDM mode)
Renesas M32R (BOOT mode)
NBD NEC M32R (Toyota TF010 CPU Group)
Using the New Trasdata allows you also widen the range of vehicles supported by New Genius via OBDII.
When the ECU microprocessor is delivered with "anti-tuning/TPROT" protection, a software patch can be applied using New Trasdata which unlocks the OBDII communication and allows programming with New Genius once again.
Also supported is reading and programming of the whole content of the ECU (microprocessor, flash Eprom and serial Eeprom). A wide variety of operations are therefore supported and after the initial reading, it is always possible to restore the ECU to it's original state. Automatic checksum correction is performed in the writing operation.
These operations can be performed without any physical soldering if desired, a wide range of programming adapters are available to allow connection between the New Trasdata and the ECU with our BDM positioning frame.
AUTEL MK808
Autel, as one of the world's leading manufacturers in the automotive aftermarket, dedicates itself to developing professional diagnostic tools and translating global clients' needs into superior cost-effective and innovative products with strong R& D and production capabilities.
Autel MaxiCom MK808, an advanced tablet automotive scan tool, has the capability of accessing all vehicle systems displaying ECU information, reading and erasing codes, viewing live data, and performing a series of special services. Providing a broad array of productive solutions, this Autel scan tool makes work easier for professionals performing vehicle diagnostics.
Wide Vehicle Coverage

The software of Autel scanner MK808 has a wide range of compatibility and can be used to diagnose vehicles from over 56 brands in the US, Europe and Asia. Moreover, you'll get more newly added car models with the fast-release software update service. With all system diagnostics, wide vehicle coverage, and complete services, the car scanner is an ideal scan tool for all vehicles as well is great for your efficient repairs.

Time Saving Technology

The all-in-one car scanner with time-saving technology is all you'll need for your easier work. Based on the Android operating system, the scan tool provides you with a broad array of features that were designed to help you work faster and more efficiently. Shop Manager manages the workshop info for you; Data Manager allows you to store, print, and review the saved files; MaxiFix Platform offers you diagnostic resources.

Fast System Diagnostics

Autel scan tool MK808, as a professional car diagnostic scanner/ scan tool for all vehicles, is equipped with advanced configuration for better user experience. Featuring charming Android operating system, well-performed A9 processor, large 7-inch LCD screen and built-in 32GB memory, the OBD2 scanner (auto code reader) can provide you with the incredibly great speed and fluency.
Battery Charger / Stabiliser
Dead Battery? No problem. Using advanced high-power silicone rectifier technologies, Röhr Battery Chargers are capable of pulse frequency recharging for depleted/dying batteries.
Pulse Battery Repair Technology. Older batteries can lose their ability to hold charge due to becoming sulfated. This charger features highly advanced pulse rectifier boost battery repair technology that actively repairs this damage. This battery restoration feature can get almost any battery back to full health.
No Battery?! Still no problem. Röhr Battery Chargers will start an engine or motor even when the battery is dead.
Circuit (Deal) Breaker Advanced Circuit design provides superior efficiency and a longer life whilst reducing overall size and weight. With inbuilt safety measures and easily accessible fuses you can be sure of complete safety, protected against surges, chargeback, inversion and faulty batteries.
This unit operates on a single-phase DC current and will charge nearly all leisure, automotive and domestic batteries. With High speed Max power and Trickle Charging maintaining nominal battery conditions. The large terminals aid switching between 12 and 24 volts quick and easy.
Easily Switch between Charging Currents to match Battery Performance. Up the Amps by switching to '2'.
Our full Röhr range offers alternatives to suit every need.
Key Features:
Standard Charge or Jump Start Mode
Trickle or Fast Charge
Pulse Battery Repair Technology
Rectifier Pulse Charging
Advanced PCB Circuit Design
High & Low Charging Speeds
Direct Start for Engines
Wheeled for Portability
DC Single Phase
Metal Body